Aluminum Repair Brazing Rods Online – Anyone can repair Aluminium Quickly
Just a few of the many metal parts that can be easily repaired!
Aluminum Heads
Cast Iron Heads
A/C Lines
Timing Covers
Manifolds
Fuel Tanks
Wheels
Complete Fabrication
Aluminum Boats
Cavitation Plates
Brackets
Ladders
Tool Boxes
Mast
Fenders
Truck Beds
Transmission Cases
Oil Pans
Bell Housing
Aftercoolers
Condensers
Condenser Lines
Refrigeration
Rivets
2N tractor parts
Awnings
Industrial Parts
Aluminum Molds
Pot Metal Parts
Loaders
Engine Blocks
Turbochargers
Generators
Alternators
Radiators
Irrigation Pipes
Aviation Float
Seams
Skegs
Furniture
Pumps
Towers
Repair Aluminum Quickly and Easily with HTS-2000 Brazing Rods
Saves you time– Repairs are fast and simple, brazing aluminum with our HTS-2000 or cast iron with our HTS-528 brazing rods.
Saves you money – Cheaper than welding machines or buying new or used parts.
Lets you do it yourself – Regardless of your experience anyone can easily braze aluminum just by reading our 1 page instruction sheet, guaranteed!
Does the impossible! – Accomplishes many repairs even after a welder says it can't be done stronger than welding and even repairs oily or oxidized metals.
HTS-2000 Brazing Rods for all "non-ferrous" alloys like Aluminum, Cast Aluminum, Die Cast, Aluminum Magnesium, Pot Metal, Zinc, Copper, Bronze, Brass, Titanium, Silver, Stainless, Nickel and Anodized parts.
HTS-528 Brazing Rods for any ferrous alloys like Cast Iron, Steel, Brass, Nickel, all hard surface alloys.
Order on-line now, and see how affordable this amazing product can be for your repairs!
We Ship Worldwide – Your shipping rates are displayed after you fill in your shipping address for your order and before you complete the order and put in credit card information – All orders sent out the next business day.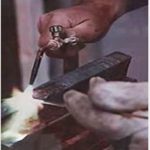 HTS-2000 BRAZING ROD
Repairs aluminum, cast aluminum, pot metal, copper, magnesium, and all white or porous metals.

HTS-528 BRAZING ROD
For close-fit joining and repairs on all cast iron, steel, copper, bronze, nickel, and brass.