testimonials
"Your product has allowed us to repair Skegs and Cavitation plates, and has allowed us to quickly and easily repair cracks, holes, rivets, and seams on aluminum boats without having to send them out to be welded."
Jimmy Houston Marine
- Rogers, AR.
Become a Distributor
Guaranteed to be the finest metal repair in the world! Over 40,000 satisfied customers worldwide!
HTS-2000
Aluminum Repair
How to -
Information
HTS-528 Cast
Iron Repair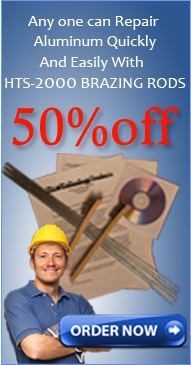 Become a Distributor
Boat Repairs
Aluminum Boat Repair
Aluminum boat repair is made easy with the HTS-2000 second-generation brazing rod. Many people buy aluminum boats because aluminum is light, fast, flexible and seaworthy. As with any kind of boat, sometimes boat repair is necessary. Hull damage to an aluminum boat can occur from abrupt groundings, collision with other objects or just wear and tear over time.
Aluminum boat repair is much easier than boats made with steel or fiberglass hulls. Aluminum is light, strong, corrosion-resistant, non-sparking and can be fixed with an HTS-2000 brazing rod without a welding machine.
Pitting, cracks and crevice corrosion are three of the drawbacks of any aluminum boat over the long haul. Sometimes aluminum boats will develop small leaks and need repair. The HTS-2000 is a no-flux brazing rod and all that is needed besides the brazing rod is a heat source (propane or mapp gas), a turbo tip, or oxy-acetylene. Since the melting point is 500 degrees lower than the surface of an aluminum boat, many repairs can be made quickly and easily and even holes can be filled because of the rod's anti-drip properties.
Boat repair can be accomplished even by those with no experience. Please see the video link on the upper right of this page.
In addition to boat repair, other boat-related repair can also be conducted quickly and easily as well. For instance, repair to a boat engine or engine housing, fuel tanks or even the boat trailer is a snap with our products.
Besides boat repair, the HTS-2000 can also repair engine blocks, radiators, fuel tanks, air conditioners, latches, brackets, rivets and many more aluminum surfaces and objects.
So, if you have an aluminum boat and are in need of a quick and easy method for boat repair, look no further than our industrial strength, second-generation line of boat repair products. You'll be amazed at how easy boat repair really is.
Testimonials:
Gibbons Boat Repair
Bismarck, ND
"We tried your Brazing rod thinking it would be like all the rest. Wow! It worked great! We repair aluminum boats–the riveted and welded type. Without a machine, we were able to turn the boat to the right angle and make the repair easily without having to fight gravity. We saved our customer about $3,500. The boat had landed on a steel fence post in one of our lakes. The insurance company had written off the boat because of the cost to replace the bottom. We riveted a plate on the inside, then turned the boat over and brazed it. We sanded it smooth and the customer is going to spot paint. The cost of the repair charged to the customer was only $800. "
www.capsizer.com
Bob Gibbons
---
"I ordered 1 lb. of HTS 2000 rod to repair my 15 ft. aluminum Klamouth fishing boat. I've welded and brazed my whole life, so I didn't bother reading the instructions or view the CD. When I tried to fix my boat I couldn't get it to work well. So when I got home I viewed the CD and followed the tinning process, which made a world of difference! I ended up installing a 1/2″ x 3/16″ x 10ft. long strip to the keel of my boat. Now it looks like new – No leaks and I can repair any hole or crack in any aluminum boat, thank you HTS 2000!"
Sincerely Joe Kokrak
---
You at NTP are great. I have heard good things about both your products and your customer service. I look forward to working with you and thanks for the no hassle reimbursement. I didn't mean to order two purchases, I will use your product to fix my Alumaweld boat–they want $3000, to fix at local boat yard, I guess a $140 is a steal in comparison. Looking forward to your shipment, thank you —
Mark E. Stocker
---
Still have questions? click here to see our frequently asked questions section.